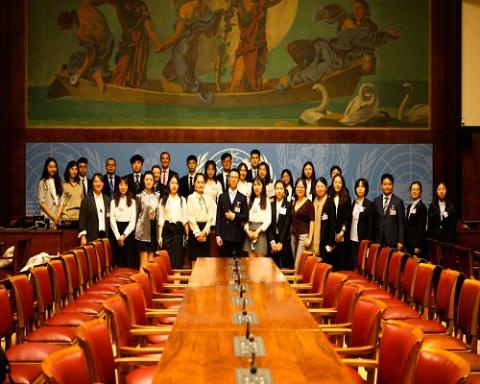 United Nations Immersion Programme - Tokyo Field visit - CCIPE
Event Focal Point Email
ccipe.cooperation@unitar.org
Contact Number
+8615524660392
Registration
Public – by registration
Mode of Delivery
Face-to-Face
Pillar
Multilateral Diplomacy
Data Protection and Privacy
The personal data of participants applying for, registering for or participating in UNITAR's training courses and other events is governed by the
Data Protection and Privacy Policy
. By applying for, registering for or participating in this event, the participant acknowledges that he or she is, (or they are) aware of the policy and agree to its terms.
The United Nations Institute for Training and Research (UNITAR) was established in 1963 as an autonomous body within the United Nations with the purpose of enhancing the effectiveness of the work of the UN and its member states.
UNITAR designs and conducts close to 500 different training and knowledge sharing events per year for some 50,000 beneficiaries worldwide. Participants include diplomats, other government officials, non-governmental representatives, and other stakeholders.
At the heart of UNITAR, the Multilateral Diplomacy Programme Unit (MDPU) delivers training workshops to address the needs of these international actors. MDPU's activities cover a wide range of domains, including training on the UN system and skills development.
As one of UNITAR´s office is located in Hiroshima, it offers itself perfectly to be one center for training participants. The second center in Japan is the "UN House" in Tokyo, which hosts the UN University and other UN organizations. UNITAR can arrange sessions on the following UN agencies:
UNITAR Hiroshima Office
United Nations Institute for Training and Research (UNITAR)
UN House Tokyo
United Nations University (UNU)
United Nations Development Programme (UNDP)
International Labour Organization (ILO)
UN Information Centre (UNIC)
United Nations Children Fund (UNICEF)
United Nations Industrial Development Organization (UNIDO)
United Nations Office for Project Services (UNOPS)
United Nations Populations Fund (UNFPA)
Other UN agencies in close proximity to the UN House Tokyo
UN High Commissioner for Refugees (UNHCR) Regional Representation in Japan
UN Women
World Intellectual Property Organization (WIPO)
IAEA Regional Office Tokyo
International Monetary Fund (IMF) Regional Office
International Organization for Migration (IOM)
Other international organizations in Tokyo:
Organization of Economic Cooperation and Development (OECD) Tokyo Centre
Asian Development Bank (ADB)
ASEAN Japan Centre
Guided Tours:
In both Tokyo and Hiroshima, UNITAR can arrange a series of tours to complement the field visit. In addition to tours through the UN facilities, this can be a guided tour through the Hiroshima Peace Park, the Hiroshima Castle, the Shukkeien Garden, well as downtown Tokyo.
Cultural Activities:
To complement the experience within the multilateral environment, UNITAR blends the above-mentioned components with cultural activities, allowing participants to enjoy the culture and traditions of Japan. This can be a traditional Japanese dinner and a visit to local museums.
UNITAR will be responsible for the overall design, coordination and implementation of the Immersion Programme. It will liaise with participants on a regular basis prior to the activity's implementation in order to ensure a smooth and flawless organization for everyone involved.
The participants are responsible to purchase their own travel tickets to and from Tokyo as well as to apply for visa to Japan. UNITAR can supports this process with the help of an official visa invitation letter. Participants further need to take care of their own accommodation and daily meals.
Please read this before registration "I understand that the United Nations Institute for Training and Research (UNITAR) does not insure participants in the above-described activity and I am advised to arrange at my own expense insurance against sickness, accident, permanent or temporary disability, death, and third-party risk for the period of the meeting, including travel time"
For more information email us at: ccipe.cooperation [at] unitar.org (ccipe[dot]cooperation[at]unitar[dot]org)