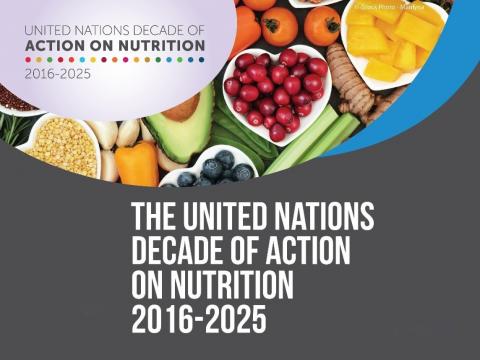 The United Nations Decade of Action on Nutrition (2016-2025)
项目领域
Decentralize Cooperation Programme
活动协调人email
sdp@unitar.org
合伙
World Health Organization (WHO)
登记
Public – by registration
Data Protection and Privacy
The personal data of participants applying for, registering for or participating in UNITAR's training courses and other events is governed by the
Data Protection and Privacy Policy
. By applying for, registering for or participating in this event, the participant acknowledges that he or she is, (or they are) aware of the policy and agree to its terms.
In order to alleviate the massive global burden of suffering and unfulfilled potential resulting from all forms of malnutrition, Member States of the United Nations (UN) proclaimed the United Nations Decade of Action on Nutrition (Nutrition Decade) in 2016. UN-wide, led by Member States and convened by the Food and Agriculture Organization (FAO) and the World Health Organization (WHO), the Nutrition Decade unites all countries and stakeholders around a common Second International Conference on Nutrition (ICN2) framework and increases the visibility, efficiency and effectiveness of nutrition action at all levels worldwide.
On the basis of this common framework, WHO, in partnership with the United Nations Institute for Training and Research (UNITAR), developed the 3-hour e-learning course The United Nations Decade of Action on Nutrition (2016-2025).
By the end of this course, participants will be able to:
Understand the background and global context that led to the proclamation of the UN Decade of Action on Nutrition (2016-2025).
Identify key aspects (aims, principles, etc.) of the Nutrition Decade.
Become familiar with the key stakeholders involved in the Nutrition Decade.
Support Member States in the development of SMART commitments.
Explain how the Nutrition Decade supports the Sustainable Development Goals.
Self-paced e-learning course.