Knowledge to Lead
UNITAR Online Catalogue
SDG Open Hack! Singapore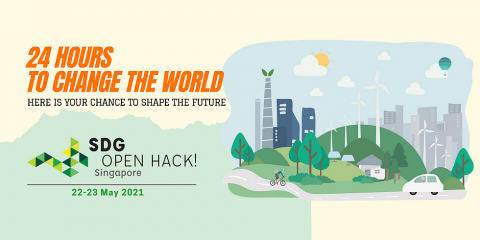 加速可持续发展目标的落实
活动协调人email
afroditi.anastasaki@unitar.org
合伙
Open Geneva
University of Geneva
背景信息
In Partnership with United Nations for Training and Research (UNITAR), Open Geneva, University of Geneva, Singapore universities and corporate partners.​
The SDG Open Hack is an atypical hackathon that promotes innovation & entrepreneurship, cultivates leadership, creativity, mobility, international competence, and teamwork ability.
It is open to current university students studying in Singapore, encourages cross universities and disciplines to form a team to solve societal and/or environmental challenges, by way of learning UN 17 SDGs. 
Students can freely choose challenge topics according to their interests, form an interdisciplinary innovation team online, and work hard to develop innovative solutions within 24 hours for challenges related to a certain field virtually.
The shortlisted solutions will be presented to the judges and the public during the Grand Finale and Awards Ceremony on 24 May 2021.
活动目标
This hackathon aimed at introducing university students from Singapore to different SDG topics and engage them into the process of open innovation for addressing relevant  idenitified challenges.
内容和框架
The hackathon used a blended format of content and structure, including expert presentations on different topics, methodologies of innovation development challenges and self-organised group work for the final event deliverables. In particular, the hackathon run in 2 consecutive days, leading to the participants' final presentations. An SDG Innovation Bootcamp helped prepare the participants' participation in the hackathon. 
May 20 & 21 (6:00pm – 8:00pm) – SDG Innovation Bootcamp on YouTube Live
May 22 @4:00pm to May 23 @4:00pm – 24hours SDG Open Hack Singapore! 
方法
Hackathon is a method of open innovation practice, implying an intense, uninterrupted, period of collective problem solving. Methodologies of SDG Innovation, such as developing an idea to a concrete plan, team building and communicating effectively a meaningful solution by learning how to pitch were integrated as training to foster the participants' innovation outcomes and deliverables through the production of a few-minute demonstration of the innovation concept and its value. 
目标受众
The event's target audience included university students from 4 universities in Singapore.