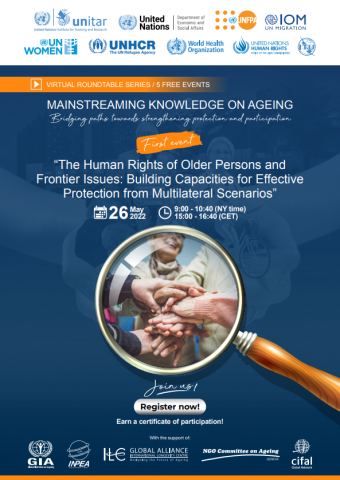 VIRTUAL ROUNDTABLE SERIES. "MAINSTREAMING KNOWLEDGE ON AGEING". 1st. Event out of 5 (1 hour, 40'): "The Human Rights of Older Persons and Frontier Issues"
项目领域
Decentralize Cooperation Programme
活动协调人email
analucia.jacome@unitar.org
合伙
United Nations Department for Economic and Social Affairs (UNDESA)
United Nations Population Fund (UNFPA)
International Organization for Migration (IOM)
United Nations Entity for Gender Equality and the Empowerment of Women (UNWOMEN)
United Nations High Commissioner for Refugees (UNHCR)
World Health Organization (WHO)
International Telecommunication Union (ITU)
United Nations Office of the High Commissioner for Human Rights (OHCHR)
CIFAL Global Network
International Network for the Prevention of Elder Abuse (INPEA)
International Longevity Centre Global Alliance (ILC)
NGO Committee on Ageing, Geneva
Global Initiative Foundation on Ageing (GIA)
登记
Public – by registration
Data Protection and Privacy
The personal data of participants applying for, registering for or participating in UNITAR's training courses and other events is governed by the
Data Protection and Privacy Policy
. By applying for, registering for or participating in this event, the participant acknowledges that he or she is, (or they are) aware of the policy and agree to its terms.