Knowledge to Lead
UNITAR Online Catalogue
Book launch.- Redefining Development: The Extraordinary Genesis of the Sustainable Development Goals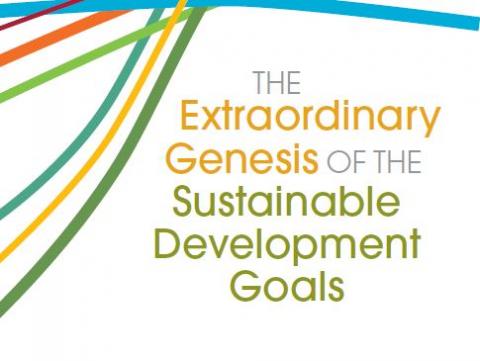 Multilateral Diplomacy
Location
New York , United States of America
Programme Area
Environment,
Environmental Governance and Law,
Governance
Event Focal Point Email
patricia.romero@unitar.org
Background
The UNITAR New York office is pleased to host this event and book launch to support this significant look at the lessons that can be learned in the wake of the importance of implementing the Sustainable Development Goals (SDG) quickly and steadily.
The event will be based on the book written by Paula Caballero with Patti Londoño, a team of authors who have worked directly with international public policies and the establishment of global agendas at the United Nations and at their national level. This book will be essential reading for professionals and policymakers involved in diplomacy, as well as students and scholars interested in international relations, global governance, negotiation, and sustainable development.
The book takes a practical look at the genesis of the SDGs. At this global inflection point that humanity is at, where diverse crises converge and there is growing hunger for actionable solutions, the incredible history of the SDG's genesis can inspire and incite. In understanding how difficult it was to get agreement on the SDGs, the book forces a reflection on what it takes to drive and advance the transformations needed across our societies and economies. The fact that the SDGs were crafted against all odds should be a call to finally implementing them with renewed vigor and determination. And as we underline, we regard the SDG and the climate agendas as one. The years ahead call for transformation and disruption and the SDG journey demonstrates that it is possible. The book speaks to the plethora of constituencies committed to action across the SDGs and aims to incentivize many more once they understand the degree to which the SDGs broke through outdated notions of development. 
By sharing for the first time the rich and improbable history of the SDGs, we also aim to seed more robust scholarship and research around a remarkable process in the history of international negotiations. The Rio+20 negotiations encompassed a multitude of tracks covering most of the main arenas of international development, and yet attention has been mostly focused on the process post-Rio under the Open Working Group. There is scant research and insights into the Rio+20 process itself, the negotiations and outcomes. The book aims to inspire research into the process and the strengths of informal diplomacy. Ours is a practitioner's narrative grounded in a comprehensive database with most of the negotiation documents - a wealth of unique materials.
Targeted Audience
Core diplomatic & delegates and UN staff. 
Additional Information
Date: Tuesday, June 14th, 2022
Time: From 10am to 11:30am EST.
Venue: ECOSOC Chamber (participants must have a valid UN pass to enter premises)
Format: The workshop will be held in English.