Knowledge to Lead
UNITAR Online Catalogue
THE USE OF TECHNOLOGIES FOR COMBATING CORRUPTION (1st. iteration)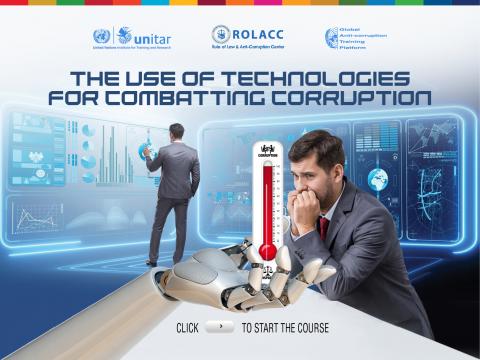 People
Programme Area
Decentralize Cooperation Programme
Event Focal Point Email
analucia.jacome@unitar.org
Background
Technologies play an instrumental role in combatting corruption due to a wide range of benefits, challenges, and needs caused by development dynamics. Its use from different actors demands responsible knowledge for improving quality of life rather than diminishing it: although the digital gap is present in and between all regions, there is a common understanding of its imperative use as part of globalization for socio-economic inclusion.
Nowadays, better understanding the role of technologies in detecting and combatting corruption in all its dimensions is inevitable and necessary. Therefore, mainstreaming knowledge on the use of technologies and its mutually reinforcing relationship with corruption represents one step forward its conscious use as a mean for eliminating or at least mitigating negative causes and effects on people's lives and their environment.
As a contribution to this endeavour, the Rule of Law and Anti-Corruption Centre (ROLACC) and the United
Institute for Training and Research (UNITAR) have brought together their expertise to collaboratively developed this e-learning course on "The use of Technologies for Combatting Corruption."
Event Objectives
This e-learning course aims to provide a better understanding of the opportunities and challenges of using technologies to combat corruption while raising awareness, empowering people, and fostering positive mindsets for transforming lives.
Learning Objectives
At the end of the course, participants will be able to:
Better understand the relationship between technologies and anticorruption
Describe different opportunities and challenges on the use of technologies to combatting corruption
Recognize the digital divide and means for supporting anticorruption efforts
Content and Structure
MODULE 1 UNSCRAMBLING THE CONNECTION BETWEEN ANTICORRUPTION AND TECHNOLOGIES
·        What is the relationship between anticorruption and technologies?
·        How can technologies support Anticorruption efforts?
MODULE 2 DIFFERENT DIMENSIONS OF TECHNOLOGIES IN THE FIGHT AGAINST CORRUPTION
What are the challenges and opportunities of technologies in Anticorruption efforts?
What are the roles and responsibilities of public and private sector in developing and using technologies to combat corruption?
 MODULE 3 ENHANCING EFFECTIVE USE OF TECHNOLOGIES IN ANTICORRUPTION EFFORTS
How to identify technologies for combatting corruption?
How to optimize the use of technologies?
MODULE 4 STRENGTHENING SKILLS FOR TRAINING ON TECHNOLOGIES FOR COMBATING CORRUPTION
How to raise awareness on the use of technologies to combat corruption?
What are the steps for developing a successful training program on the use of technologies in Anticorruption efforts?
Methodology
The course is based on UNITAR's sound adult learning pedagogical principles. Each module includes readings, self-assessment activities and quizzes. The learning activities are distributed in such a way to ensure the achievement of the learning objectives in a flexible manner.
Targeted Audience
The course is designed for supporting delegates of States and other relevant stakeholders working on anticorruption and sustainable development from developed and developing countries.
Additional Information
A certificate of completion will be issued to participants who achieve a minimum total score of 70% in the average grade. A certificate of participation will be issued to participants who complete all mandatory activities.