Knowledge to Lead
UNITAR Online Catalogue
Leadership in the Public Sector (2020)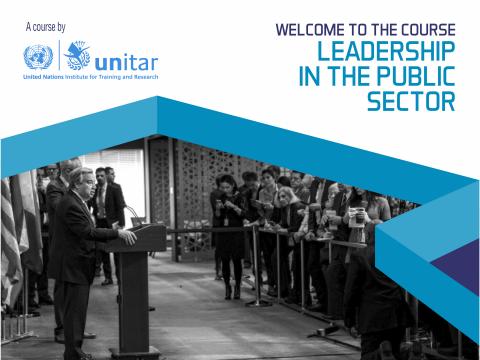 People
Programme Area
Decentralize Cooperation Programme,
Governance,
Public Finance and Trade,
Corporate Social Responsibility
Event Focal Point Email
julia.genth@unitar.org
Background
This is a 2-month certified e-learning course that is self paced for you to manage your workload, as per your convenience.
The overall aim of the course is to strengthen the competences required by public sector leaders and public servants for the achievement of the Sustainable Development Goals, to recognize the most important skills required for effective leadership, and to gain a comprehensive overview of the current and future challenges public leaders are facing.
Certificates, issued by the UN Assistant Secretary General, Executive Director of UNITAR, will be issued upon successful completion.
Additional Information
Dear Participant,
Thank you for registering to the course: Leadership in the Public Sector!
This course will debut on the 21st of May.
To access the course, please use the following link: https://learnatunitar.org/course/view.php?id=521
And password: Leadership2020!
In case of any questions, please do not hesitate to contact me at julia.genth [at] unitar.org.
Sincerely,
Social Development Programme Unit