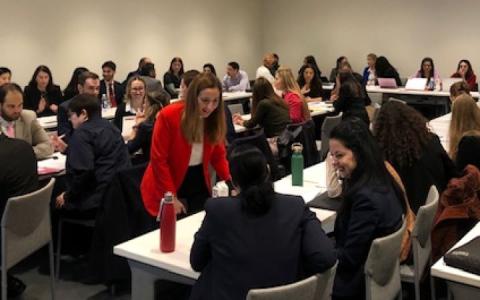 Columbia Law School Series - Fall Session Workshop " Ask for More: Master Diplomatic Advocacy Through Asking the Right Questions"
Programme Area
Governance,
Multilateral Diplomacy
Event Focal Point Email
mehdi.ladab@unitar.org
Registration
Public – by registration
Mode of Delivery
Face-to-Face
Data Protection and Privacy
The personal data of participants applying for, registering for or participating in UNITAR's training courses and other events is governed by the
Data Protection and Privacy Policy
. By applying for, registering for or participating in this event, the participant acknowledges that he or she is, (or they are) aware of the policy and agree to its terms.
The event will take place on Thursday, October 26th (times 10:00 AM to 1:00 PM).
This workshop is the first session of the Fall 2023 Columbia Law School training series.
This workshop will take place in Hybrid format, in person from UNHQ for all those with a valid UN ID and online for those without a UN ID. 
UNITAR will not issue UN ID's for the participants. 
This workshop teaches diplomats why questions can be their #1 diplomatic and advocacy tool. Participants will learn the most powerful questions we can ask during conversations to avoid potential misunderstandings, and enhance productivity. The skills-based exercises will introduce the use of open questions to improve outcomes, principles of active listening, and summarizing techniques to navigate difficult conversations. Participants will learn how to promote interest-based bargaining by unpacking facts, interests, and feelings, for the purpose of creating mutually beneficial solutions. Participants will be introduced to case studies involving different approaches applying what they have learned to these scenarios.